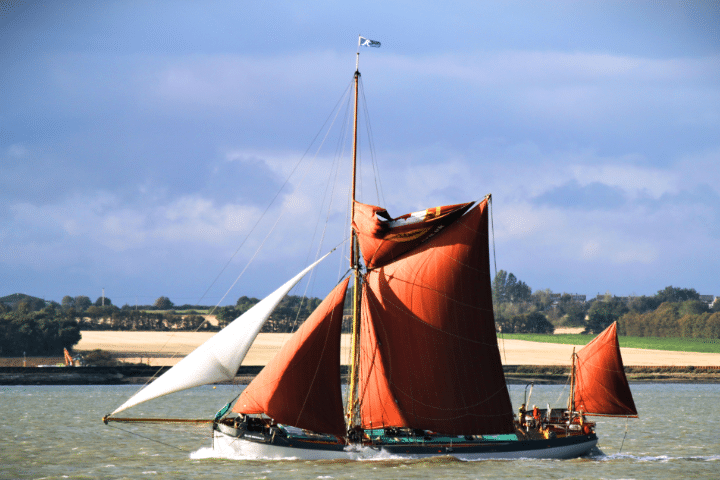 Blue Mermaid
Commissioned in 2019, Blue Mermaid is a faithful replica of the original Blue Mermaid.
She was one of the last Thames sailing barge built, in 1930, but lost during the war. Our sailing barge is designed to meet the needs of the Charity.
Blue Mermaid is comprised of a steel hull and deck and has all the traditional rigging and decking of a sea-going Thames sailing barge, with basic facilities below. She is a wide and stable vessel, perfect for introducing people who have never sailed before to their first voyage, and there is plenty of room below for residential living.
Blue Mermaid meets all the safety regulations for carrying passengers, and she is staffed by qualified sea-staff who are experienced at working with young people and vulnerable adults.
The Interior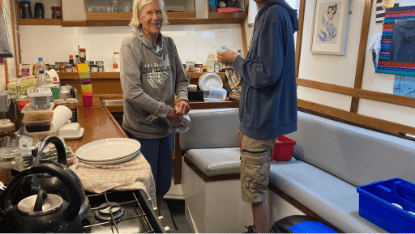 Interior and capacity
Blue Mermaid can accommodate up to 12 guests including leaders. For the comfort and benefit of everyone onboard, we prefer to work with smaller groups of eight or ten people. Groups must be accompanied by at least two leaders, and a higher ratio of leaders to clients is desirable if the clients need more support to gain the maximum benefit from their voyage.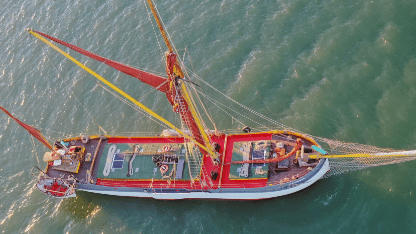 Facilities
The interior of the barge has basic accommodation including a bunk for every participant, and a galley stocked with all the cutlery, crockery and pans required to cater for hungry sailors. There is a gas oven and grill, and a four-burner hob. We have no fridge or freezer onboard, but there is a large cool box to keep stores chilled during your voyage. Because all our electricity comes from solar power we don't have three pin sockets onboard.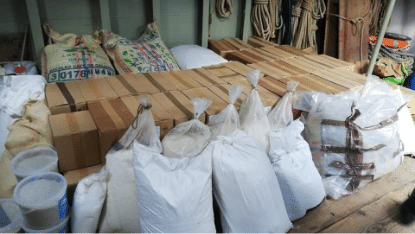 Cargo Hold
The main space inside the barge is the cargo hold. When sailing on residential voyages this area has a table and chairs for mealtimes together, and some bean bags for relaxing in free time. It also has some foldable bunks with privacy curtains. When we carry a full cargo, this area becomes a dedicated cargo space.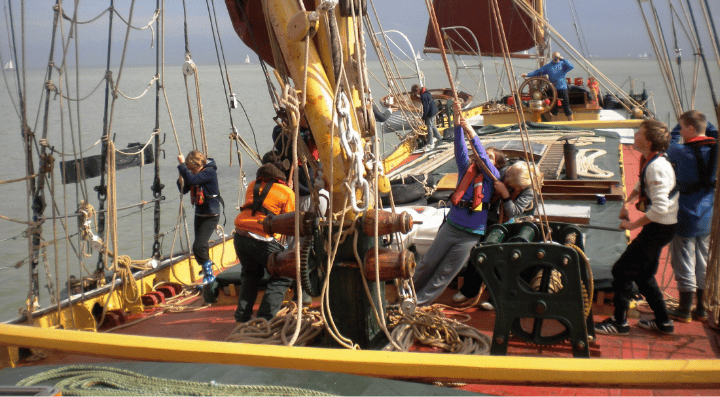 This makes our voyages very low-carbon, and environmentally friendly. It keeps marine life happy and is also great for boosting well-being amongst our crew, who quickly learn to go at the natural pace of the elements whilst on their voyage with us. It also provides a great educational opportunity, demonstrating how wind and tide are both free and clean sources of energy.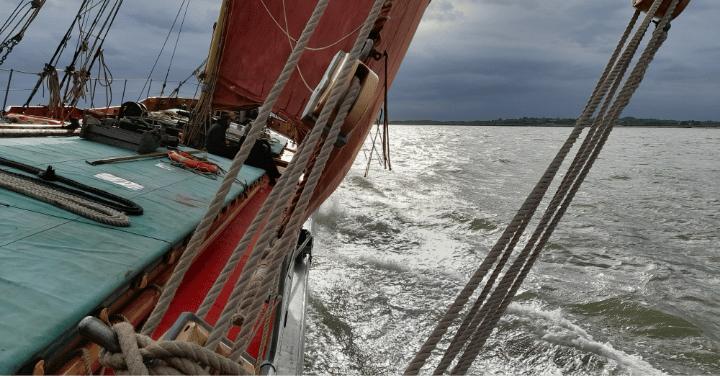 Blue Mermaid has been recognised for her environmental credentials. She was the first commercial vessel operating on the River Thames to be awarded Gold status in the Thames Green Scheme, and in 2022 she was awarded the ASTO Most Environmentally Friendly Sail Training Vessel of the year award.